DSL: CPE

Arion™ CPE Family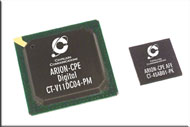 Armed with many years of high-performance DSL technology deployment experience around the world, Centillium offers its Arion™ CPE product family, powered by its next generation eXtremeVDSL2™ technology targeting the exploding triple-play, video, and IPTV markets.
The Arion product family offers:
ITU-T G.993.2 standard compliance with support for 8.5/12/17.6/30MHz operation
EXtremeVDSL2TM technology for long reach 100 Mbps symmetric data rates
Multi-latency operation for triple play and IPTV applications
Dynamically configurable ATM, PTM modes
On-chip interleaver memory for highest INP protection
On-chip power management for lowest power
Flexible external ATM and PTM bonding
Dynamic crosstalk detection/adaptation for robust link operation
Configurable one GMII port or two RMII/SMII/SS SMII ports
Backwards compatible to ADSL/2/2+/2++
A high degree of integration that drives down the BOM cost for CPE
Two VDSL2 CPE system-on-chip (SoC) solutions are offered: Arion I CPE, a VDSL2 bridge, and Arion II Gateway, a full featured VDSL2 voice enabled, secure gateway router for residential and SOHO applications.
The Arion™ I CPE chipset is a high performance, standard based VDSL2 solution that addresses applications ranging from a simple bridge to a full featured set-top box. Arion I CPE's digital processor provides full programmability and high-performance for future proof modem solutions. Its AFE incorporates external discrete components resulting in a reduced system BOM (bill of materials). The AFE's high-resolution analog-to-digital (A/D) and digital-to-analog (D/A) converter circuits provide the performance required for high data rate applications.
Arion I chipset incorporates multiple network interfaces that will support two RMII/SMII or one 10/100/1000 GMII interfaces for flexible network connectivity. In addition, the Arion I chipset supports GPIO, SPI, and JTAG interfaces.
The Arion I chipset can be connected gluelessly to Centillium's Atlanta family of chips to add powerful routing and VoIP functionalities. In addition, Atlanta's PCI interface can be used to connect to off-the-shelf WiFi chips for trio-modem applications.
The Arion IIa Gateway CPE is a gateway system-on-chip (SoC) for VDSL2 networks offering equipment manufacturers fast time-to-market and proven processing power for voice, data and video in residential and small-office, home-office (SOHO) markets. Arion IIa Gateway CPE integrates within a single device the features of Centillium's award-winning Atlanta 100 Voice over Internet Protocol (VoIP) gateway router and the features of the ARION I CPE bridge SoC. The Arion IIa Gateway CPE chipset also adds new, patented technology to boost service quality for demanding triple-play applications.
A complete system solution, the Arion IIa Gateway CPE chipset drives market-proven VoIP and VDSL2 technologies through a single, turnkey platform, promising low bill-of-materials (BOM) costs and accelerated time-to-market. For IAD applications, Arion IIa Gateway CPE powers premium triple-play services including IPTV, VoIP and high-speed Internet by providing a fully featured gateway-on-chip solution for secure network routing, high-quality voice processing, robust video capabilities and high-performance data exchange over VDSL2 networks, with symmetric data rates up to 100 Mbps. The chipset includes a digital chip with integrated MIPS processor, encryption and QoS packet engines, a voice DSP, and an analog front-end chip.
The Arion CPE family of chipsets provides feature, cost, and performance advantages. To reduce development costs and accelerate time to market, turnkey software solutions, complete reference designs and customer support are provided.
Download:
Arion™ I CPE Marketing Product Brief


Arion™ II CPE Marketing Product Brief