Optical

Optical Services Gateway
An Integrated Product Platform
Centillium's broad product portfolio offers major systems building blocks for a range of integrated product platforms. Two product families are brought together in its Optical Service Gateway (OSG) Platform offering. This platform supports feature sets for a wide variety of business and home gateways delivering quadruple play services - video, data, voice and wireless.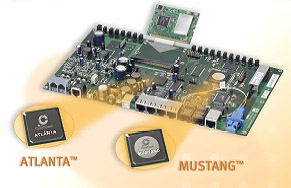 Close coupling between these product families through harmonized software offers customers the security of interfacing with a single product vendor, and streamlines the development processes. This total approach relieves a systems vendor from a sizeable software development, saving development costs and shortening time to market.
Minimizing the BOM is a major focus for any CPE design. Centillium's goal is to make this possible by careful integration of product features across product families. And this goal is achieved in the OSG by minimizing on-board RAM requirements and other peripheral devices.
Hardware
Incorporated in the OSG are Systems-on-Chip (SoC) selected from Centillium's Mustang™ and Atlanta™ product families.
Atlanta 100 is a highly integrated SoC combining a management processor, a voice engine, and a data engine. It is specifically designed for residential gateways, media terminal adapter (MTA), and integrated access devices (IAD). Its design integrates a high-performance network processor, two RMII interfaces, a voice DSP (digital signal processor), a USB interface, and dual PCM/IOM2 interfaces.
The Mustang ME200 SoC addresses the requirements of service providers deploying customer premises equipment (CPE) for Ethernet Passive Optical Networks (EPON). Combined with either Centillium's OLT chip, COLT, or interoperable solutions from other vendors, Mustang supports all the protocol requirements and relevant standards to ensure error free, bandwidth efficient delivery of voice, data and video services over EPON networks.
Software
The OSG is sustained by a full featured software package supporting a standards compliant EPON ONU feature set plus support of routing, security, NAT, WiFi and voice functionality. Additionally this package also incorporates a broad set of APIs, enabling the systems vendor to develop a customized feature set.
Customer Development and Evaluation Kit
To shorten systems vendors' time to market Centillium offers a Development and Evaluation kit, (CT-TPGEN210) based on Mustang and Atlanta. This product provides EPON ONU, Communications Terminal Unit (CTU), and Media Terminal Adaptor (MTA) functionality.
Download:
Optical Services Gateway Product Brief