VoIP

Service Providers & Enterprise
As predicted back in the late 90's, VoIP has truly become a disruptive technology changing the face of the telecom industry and bringing a cornucopia of new features/benefits to communications users everywhere.
VoIP first revolutionized long distance exchange services. Almost overnight, consumers could purchase telephony cards or use special access numbers to take advantage of ultra-low rates – rates made possible with the use of a VoIP gateway deployed by an IXC or International Exchange Carrier. Centillium's Entropia™ family of devices have long been used as the core technology for such gateways. During this time frame, VoIP 'buzz' was low as the core technology behind the cheaper rates was invisible to the end consumer.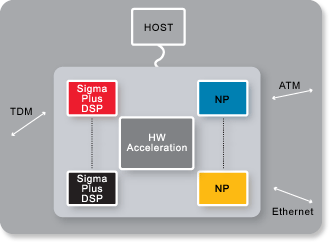 Next in line for VoIP adoption were the Enterprise customers. Small, medium and large companies realized tremendous cost savings by replacing traditional, hard-to-maintain PBXs and key systems with new IP-based PBXs. Enterprise IP-phones allowed workers to transport their number with them when moved to a new location without expensive rewiring.
VoIP technology has matured through these adoption phases, and is now ready for mainstream use. Voice quality and overall equipment reliability now approaches that of more traditional circuit-switched equipment in both the core and the enterprise, and a myriad of new services have been enabled. Centillium's technology, as the main "engine" residing in the voice gateway, has matured as well.
The Entropia™ family and its extensive C-based APIs are the result of over three years of use by gateway and enterprise equipment OEMs a wealth of knowledge encompassed into a single chip solution.