Optical

Physical Layer
Optical Transceiver Lines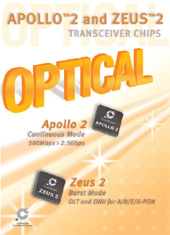 Optical technology enables the transmission of data, voice and video as light waves along fiber, and allows significantly higher speeds and greater bandwidths than conventional copper wire. Digital information - consisting of digitized video, voice telephony, interactive gaming, business files, spreadsheets and www information - is prepared for delivery to a home or business. Distribution of this high bandwidth content is accomplished over a strand of optical fiber, either directly from one location to another (Point-to-Point) or via optical splitters (Point-to-Multipoint) in a Passive Optical Network (PON).
To modulate this data onto the laser and to recover the very weak receive signal requires a very accurate driver and a highly sensitive amplifier. Centillium has combined these tasks, with added functionality including monitoring diagnostics, into a range of innovative bi-directional laser transceiver interface products.
Centillium's Transceiver Line:
Centillium's newest range of transceiver chipsets, Apollo 2 and Zeus 2, deal with a broad spectrum of data delivery infrastructures by offering a single footprint device that addresses multiple applications. The results are flexibility and savings along the entire design chain from the transceiver and optical access equipment vendor to the service provider. Centillium has integrated a broad range of functionality into a small, standards-compliant package, without the need for a separate microcontroller.
The chipsets include features such as automatic power control (APC) which contribute to cost savings for equipment vendors and service providers in design, manufacturing, inventory and testing as well as ensuring long-term stability of the laser set up. The highly accurate digital diagnostic monitoring (DDM) capability allows service providers to have clear-cut visibility into network operations, thereby permitting them to maintain a tight control on the health of their networks.
Apollo 2 Product Family: Support for Point-to-Point Data Transfer
The Apollo 2 transceiver chip enables control of point-to-point data traffic over fiber, and targets various areas of the continuous data mode environment including compliant versions for all standards and data rates from 100Mbps through OC3, OC12, Gigabit Ethernet, and OC48 architectures. Meeting stringent standards compliances, Apollo 2 addresses systems vendors and service providers' requirement to easily offer a multitude of applications on a wide spectrum of data-delivery modes for deployment on a global basis.
Zeus 2 Product Family: Support for Point-to-MultiPoint Data Transfer
The Zeus 2 transceiver chip enables control of bi-directional burst-mode traffic over fiber with versions for both CO and CPE supporting GPON, EPON and A/BPON architectures complying with the relevant IEEE and ITU-T specs. Zeus 2 offers a range of integrated capabilities enabling our customers to develop new transceiver designs for coming standards such as GPON and at the same time, allows them to save costs in their current architecture designs.

Apollo 2 Optical Transceiver Product Brief


Zeus 2 Optical Transceiver Product Brief