Optical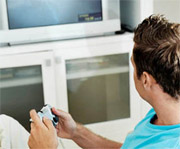 Broadband access networks are the conduit for the delivery of next generation services built on the triple play of voice, data and video. Existing residential networks are unable to keep up with the ever-increasing end-user demand for high bandwidth access. As service providers deploy Fiber-to-the-Premises (FTTP) network architecture, they are looking to innovators like Centillium to help meet this demand.
Today, Centillium is the only established System-on-Chip (SoC) provider offering complete, end-to-end, standards-compliant Passive Optical Network (PON) chip solutions for deployment of secure and cost-effective next-generation optical access networks. Centillium offers the highest integration for cost-effective delivery of bandwidth to support bundled services including IPTV, HDTV, video-on-demand, and VoIP.
For the physical layer, Centillium's optical transceiver chips support multiple applications from a single, efficient footprint. These applications include: 1) bi-directional burst-mode traffic on fiber at both the CO and customer premises, providing truly integrated solutions for all PON applications including GPON, and 2)continuous mode Ethernet, SONET, and SDH transmission at rates up to 2.5 Gbps. Delivering the highest performance, lowest cost, smallest footprint and embedded diagnostics, they enable systems vendors to achieve savings in design, manufacturing, inventory and testing.
Centillium's protocol layer solutions include a mixed-signal EPON protocol engine and bridge for CO-based optical line termination, the Colt™ family, as well as an EPON protocol engine and bridge for CPE-based optical network units, the Mustang™ family. Centillium optical solutions are compliant with the latest industry standards, including IEEE 802.3ah. These solutions provide the highest level of integration, the lowest cost BOM, interoperability, and triple play services support. When integrated with Centillium's Atlanta™ VoIP gateway, the resulting Optical Services Gateway benefits systems vendors and service providers alike by reducing BOM and development costs, improving time to market, and simplifying management.