Access Infrastructure

Fiber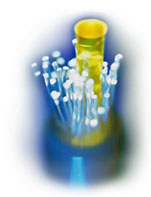 Like DSL, FTTP (Fiber to the Premises) technologies provide high speed network access for both residential and business end users, but they use fiber optic cabling and equipment instead of copper. FTTP offers service speeds up to 1Gbps and has the potential to virtually eliminate the cost of an entire class of equipment in the provider's network: the outside plant electronics. This optical infrastructure enables FTTP service providers to offer a wider range of next generation bundled services to enhance their revenue streams. The current number of worldwide FTTP subscribers is growing at a fast pace, mainly fueled by growth in Japan and the United States. In Japan alone, the number of FTTP subscribers is approaching 1 million users, and it is anticipated to double over the next fiscal year.
Centillium Solutions
Our FTTP products are based on a type of optical technology known as Passive Optical Networking (PON). In this market space, we plan to introduce Ethernet-based PON (EPON) products. Each of our FTTP products consist of one or two semiconductor devices either working independently or jointly:a mixed-signal device known as a protocol chipset, an analog device known as a transceiver and broadband service processors.
CO and CPE Products
Our FTTP products include central office (CO) transceivers and protocol processors and customer premise equipment (CPE) transceivers and protocol processors. Our CO solutions will be characterized by high performance, high density and low power consumption, while our CPE solutions will showcase advanced integration of functions targeting cost and ease of design.