Access Infrastructure

Copper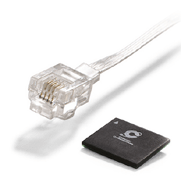 Copper lines, which have been used for Plain Old Telephone Service (POTS) and ISDN, also serve as conduits for digital subscriber line (DSL) technologies. The most prevalent DSL technologies are asymmetric DSL (ADSL), with quad spectrum speeds up to 50Mbps downstream and 5.5Mbps upstream, and recently standardized VDSL2, with speeds up to 100Mbps symmetric. Speeds can vary depending on the distance between the telecom provider's central office (CO) and the subscriber's modem or router. (CPE).
Centillium Solutions
With the eXtremeDSL technology, Centillium is a leading provider of broadband chipsets that conform to ADSL 2/2+ standards and provide customers with groundbreaking performance in broadband access. Similarly, Centillium's eXtremeVDSL2 technology will provide high performance and rich QoS solutions for the next generation triple-play and video services.
Central Office (CO) Products
Our Maximus™ and Arion™ families of DSL products are used in central office communications equipment that aggregate and process data traffic from a substantial number of individual telephone lines for transmission through a data network. Our high performance, tightly-integrated infrastructure chipsets offer high port density coupled with low power consumption.
Customer Premises Equipment (CPE) Products
Our Palladia™ family of products is used in various types of customer premises equipment that process data signals between regular telephone lines and a computer. Our high performance DSL CPE chipsets enable CPE equipment manufacturers to produce devices with high data throughput, rich feature functionality, small form factor and low power consumption.